3 Facebook Ads Techniques Changing Advertising Forever let's learn how it's working. I'm not surprised that a lot of advertisers struggle with Facebook Ads.
While reading this article, you will find that spending a fortune in Facebook Ads is useless, without the valuable information you will learn today.
Facebook recently released some game-changer tools that only a few Facebook marketers still know.
Consequently, advertising costs for the most common Facebook Ads to cold traffic that drive to web landing pages are increasing daily.
For this reason, if you want to get out of the ground and start using the techniques that work today, you've got those.
1. Facebook Lead Ads
Facebook developed a new type of ad specifically designed for lead generation: I'm talking about Facebook Lead Ads.
This tool is characterized by an easy-to-fill subscribing method, optimized for mobile traffic. By using Facebook Lead Ads, you don't even need a website landing page to collect leads.
When people click on your Ad, they instantly visualize a subscription form in which their data are automatically filled by Facebook. To subscribe to your list, people are just required to click on the "submit" button.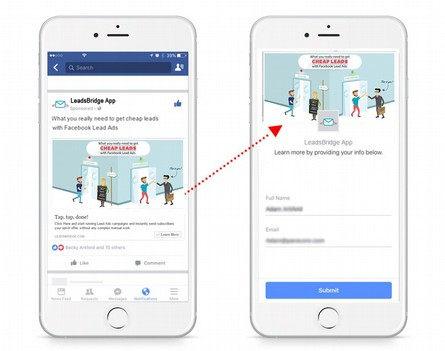 The problem with Lead Ads, is that Facebook stores users' data on a CSV file. If you don't have a tool that syncs Facebook Lead Ads to your email marketing software, you are not able to send an automatic welcome email, or make a call when someone submits his or her data, compromising the quality of leads.
Leadsbridge created Facebook Lead Ads Sync to solve this problem.
This platform connects your Lead Ads campaigns to more than 50 CRM / Autoresponder tools, by importing your leads instantly and by sending welcome emails to your subscribers.
Thanks to this tool, you can follow up your prospects with an email marketing campaign without having to manage CSV files.
To learn more about Facebook Lead Ads,

2. CRM Retargeting
Professional advertisers know that retargeting a Custom Audience on Facebook is one of the best solutions both for lead generation and for selling products and services.
A good retargeting strategy allows you, for example, to reach back visitors of specific pages of your site while they're surfing the social network.
There are many ways to run a retargeting campaign, but a CRM retargeting strategy is commonly defined as the activity of uploading an email database of your clients or prospects on Facebook.
To create a custom audience from a database, you can upload on Facebook a list of emails stored on a CSV file.
Every email or phone that matches a personal profile of a Facebook user, becomes a part of your custom audience.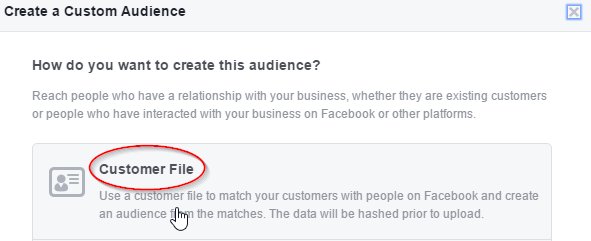 Leadsbridge created a specific tool that enhances the Facebook Custom Audiences, by syncing Facebook with your Email Database without any complex manual work.
The traditional way of using a CRM consists of splitting prospects and clients up into separate lists.
New marketing automation systems, however, can give you significant information about lead and customer behaviors, such as:
which prospects completed an email sequence;
what level of engagement your prospects have with your emails (tracking email opens and clicks);
which customers bought high-ticket products or multiple products.
By tracking the behavior of your prospects, your CRM can create several list segments. These list segments are defined with a tag, a list, a smart list, (what it's called depends on the system you're using).
Leadsbridge rolled out a tool that automatically syncs these CRM segments and Facebook ad accounts, creating custom audiences that are always up-to-date.
With Custom Audience Sync, you can run automatic, evergreen retargeting campaigns to promote your products and services, depending on how people step forward on your funnel.
3.Facebook Pixel
The Facebook Pixel is a code that you can install on your site, in order to create several custom audiences by tracking website visitors.
The images below will show you how to create such custom audiences, directly into your Facebook Ads Manager. First of all, create a new custom audience based on website traffic.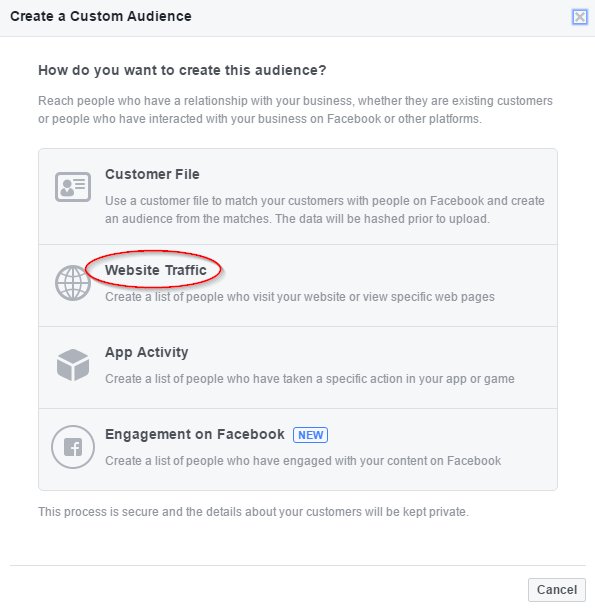 Then, decide if you want to target all the visitors to your website, those who visited certain pages within a defined amount of time or a custom combination of all these conditions.
This is a very simple way to create a custom audience for your ads, but it works, because when you send an ad to people who already know your brand, you can increase both numbers of leads and sales.
If you create a more specific custom audience of those who visited a particular page, you can get even better results because your message can be more aligned to their profile.

The Facebook Pixel has evolved in the last year, and now you can also track conversions, micro conversions, and the behavior of your website visitors. Many advertisers still don't use this solution properly because it's quite complicated in comparison to the old tracking system.
The new version of Facebook Pixel, in fact, allows you to create custom audiences based on actions called "standard events," such as adding something into the cart, using the internal search engine on your site, and many more.
The Facebook Pixel is a fantastic tool, but using it means that you need a developer, due to the changes you should make to your website.
That's why Leadsbridge created the Facebook Pixel Enhancer, a tool that pushes Standard and Enhanced (custom) Facebook Events without coding.
Closing The Loop
In this article, I showed you three techniques that will help you bring your Facebook ads to levels never seen before.
Once you start using them, I'm sure you will never be back to the old type of Facebook Ads campaigns.
Now it's your turn. If you liked this post, or if you have questions about these topics, please leave me a comment below.
I will be happy to answer and help you to improve your Facebook ads results!