ConvergeHub CRM introduces Email functionalities for its users, a great boost for you to manage your daily schedule. Meeting with the client? Discussed the details through email. New Sales and Marketing guidelines? Sent to the team right at their inbox. Revised incentive scheme? Emailed to all channel partners.
No business can imagine running its operations without email. This rightly prepares the background for introducing our new set of features – Email History View Status and Reply All and Forward.
We know how crucial is email to all our customers. So in the quest of making things more easier and convenient for them, we have gone ahead and added a set of two compelling functionalities in ConvergeHub. Both are aimed at enhancing the emailing experience of our CRM users. Check it out –
Email History View Status
Emails are a great sigh of relief. But while we all use it uncomplainingly to immediately send information, files and collaterals, there is always a mild dissatisfaction in our minds – if only the email clients could tell us whether the emails have been delivered and whether they have been viewed by the recipients or not.
It often happens that emails are sent and there is no acknowledgement/response from the other end. In such situations, either we wait or send reminder calls and mails.
But this whole quandary can be easily avoided with ConvergeHub, now. Our CRM users are getting the compelling advantage to exactly know when the emails have been opened and viewed by their recipients. Exciting isn't it?
Just months after we introduced the email delivery tracking feature within ConvergeHub, we have come up with this email open tracking feature as well. We know its one of the most important metrics of email because it ultimately tells whether the message has been successfully viewed by the recipients or not.
Unlike other CRMs who demand some specific changes in email settings, there is no such fuss with ConvergeHub. The status of all delivered emails will now automatically change from 'delivered' to 'viewed', once they are opened by the recipients.
Simple and effective !!
How it works
1. Send email to any Lead/Contact/Account/Partner.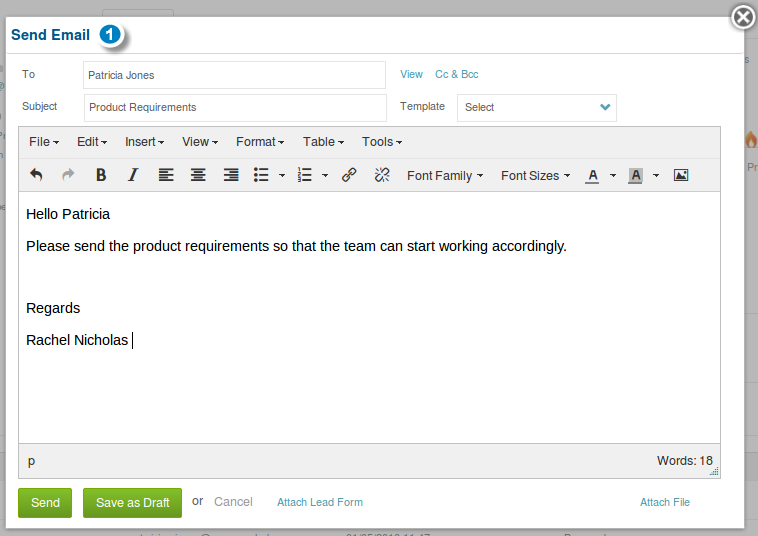 2. Check the history tab in the subpanel of the (Lead/Contact/Account/Partner) details page. The history tab will initially show the email's status as 'sent'.

3. After a few minutes the status will automatically turn to either 'Delivered' or 'Bounced'.

4. For an email delivered successfully, its status will automatically change from 'Delivered' to 'Viewed' after it is opened by the recipient.

Reply All & Forward
Emails are forwarded and replied to per day and per hour. To ensure that both these tasks are done in a snap, we have introduced Reply All and Forward functionalities into all email clients that are/will be integrated with ConvergeHub through IMAP.
How it works

1. Reply All: If there are multiple recipients of the message, our users can respond to all of them, by clicking on 'Reply All' option above the message.
2. Forward: It lets our customers easily resend a message to other people, whether it's a minutes of the meeting report or an important deal agreement copy. ConvergeHub users get the convenience to forward an individual message or an entire conversation.
Final Thoughts
All these features are live in ConvergeHub and are sure to improve the experience of managing business. Let us know what you think of these new set of additions and what other add-ons can be introduced to ConvergeHub. We'll be waiting to hear your comments.
Not an existing ConvergeHub User?
No sweat! Check out ConvergeHub's FREE TRIAL option and get a feel of what our software can do for your business.
Thank you!
ConvergeHub
P.S. Twitter is a great place to reach us.
https://twitter.com/convergehub
Looking forward to see you there.