How customer support centers benefit from CRM Software, Learn the tough way to benefit from it. For any brand to rise above the ordinary – it is 'customer service' that acts as the prime factor. That's why the differentiating element between a successful and an unsuccessful brand is the quality of service being rendered to the customers. The ones with more satisfied customers are successful and have established a strong foothold in the market.
However, catering to the customers is not that easy as it sounds. Especially – when customers have become finicky and moved onto the digital channels.
Fortunately we have applications like customer relationship management that has taken over the corporate realm and delivered massive results in ameliorating customer service. Unlike other software applications, where the proof is still in the pudding – CRM software has plenty of real-world stories, showcasing how companies have benefited post the implementation of the software.
For those who wonder how CRM software perfects customer service, following are a few examples of CRM benefits extracted from "real-world" implementations:
Benefit One: Consolidated Customer Data
Whether you have 400 customers or 4000 customers – maintaining their data in multiple repositories is something you detest. And that's what sums up as the prime benefit of CRM software solution. It centralizes the customer information under one common roof that can be accessed, shared and managed across the departments.
Which means that implementing a Enterprise CRM software provides customer support agents immediate access to customer data, including personal and professional details along with records of previous purchases. With the on-demand data, customer support agents have easy time handling customer inquiries. For instance, 360 degree customer view allows the agents to answer customer queries more quickly and provide more timely and personalized service.
This results into increased first call resolution and improved customer satisfaction,
Benefit Two: Productivity and Efficiency
CRM software calls for more up-selling and cross-selling opportunities.
For instance, CRM provides reps with customer purchase history that assists in more effective renewal processing. Analyzing the CRM data, support agents monitor and measure the past sales transactions to find the bottlenecks surfaced before. With this enhanced insight, it becomes easy for them to frame effective up selling and cross selling strategies.
Quoting the words of Chris Ward – "It makes all sense to replace the old, paper-based customer tracking system with the new-age CRM cloud software solutions integrated with telephony and order-entry systems. That's because CRM software enables customer support agents to store and review customer orders for quicker and more consistent order fulfillment, customer service and cross-selling/up-selling. "
Benefit Three: Multi-channel Customer Service
Today's companies are dealing with a growing volume of multichannel customer interactions. The whole idea of giving complete flexibility to the customers as how they would like to communicate if they have a query or a complaint to make is challenging. Behind the scenes, there are a few companies who have made a foray into this division but have drastically failed to provide a seamless experience to the customers.
Reason being that the concept of multi-channel customer service simply does not entail mail or fax but phone, email, live chat, social media and self-service offerings.
(refer to the image below)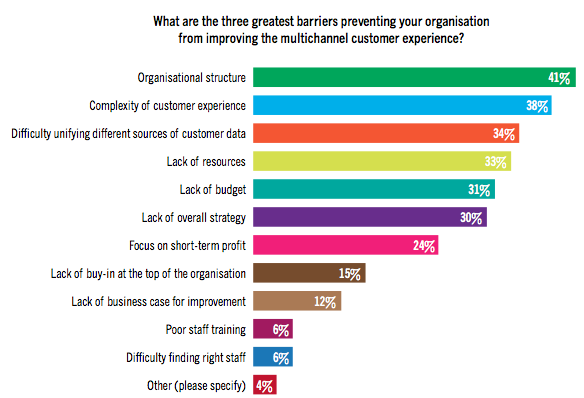 And this is precisely where, cloud CRM software comes into the picture. Why? Because CRM helps to offer consistent level of service across each channel to make the customers feel that they are dealing with a single company, whether through social media or telephone.
It provides a 'single customer view' with the ability to track customers communications and purchase behavior across different channels.
Inevitably, this leads to a robust multi-channel customer support for increased efficiency. Customer service representatives become quick and prompt and make improved interactions with customers, helping increase customer satisfaction and higher retention rates.
In the words of Mark Earls – "It was a disaster to handle a large volume of calls that was coming in every day. While my support team was efficient and prompt – absence of a software platform compelled us to put customers on hold for long periods while contact center reps were not aware of the support requests across channels or searched for information to reply to them.
Post the implementation of the CRM platform, we got equipped enough to accurately track the status of ongoing cases or follow up timely on complaints across multiple broadcast mediums. Needless to say, this increased the responsiveness of agents, and reduced customer wait times. "
To conclude, these are just a few representative examples of how CRM software applications have been benefiting the customer support teams in their work. To actually experience the impact of CRM on customer service – choose and implement a CRM now and witness the significant bottom-line improvements.
Learn the benefits of using CRM Software and Join Us at ConvergeHub