John is super excited to get the first BIG project for his business. However, his dream shatters when his team fails to deliver the project 'on time' to the client.
But what led to this?
While John had a large team working on the project, none of the members had a clear idea of:
What exactly was the client requirement?
What were the tasks of the other members?
What was the delivery date for each phase?
Result: Tasks got repeated and Deliverables did not meet the client's quality and deadline.
Do you identify yourself with this situation? Do you feel excited yet petrified, when big projects come to your business?
Project Management is no Rocket Science!!!
But still it has become like that for many businesses. Have you wondered why? To think of it, there is a common reason and that is the absence of a proper tool.
Only if you have a Project Management Software, then all your projects can be better planned, implemented, monitored and controlled. However, with limited resources it is impossible for SMBs (small and medium businesses) to stretch the budget and invest in a separate Project Management tool.
But what if Project Management feature gets integrated within a CRM?
ConvergeHub has developed a dedicated Project Management module within its cloud-based CRM software. It is now equipped to simultaneously function as an advanced Project Management solution where it enables you to:
Plan and Define the Project Workflow
Set the different Milestones
Allocate the Resources on different Tasks and Subtasks
Collaborate with Key Associates across the organization
Track the Work Progress regularly to ensure that quality work is turned in on time.
Features
1. Project Planning
It is challenging to work upon a project if it is not defined as per a proper workflow. That is why ConvergeHub allows you to define the overall project plan in the form of multiple phases. For every project, you can:
Create milestones at each step
Create tasks and subtasks and specify a completion date for each.
With the whole project broken down into smaller units, you develop more GRANULAR and REFINED control of what needs to be done and when.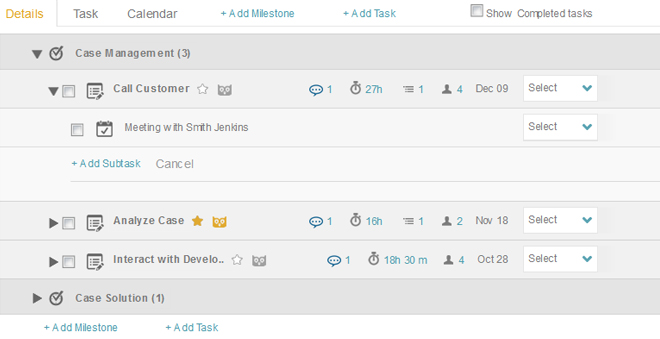 2. Resource Allocation
Often project managers struggle to distribute the tasks uniformly to all. ConvergeHub resolves this problem by enabling you to assign the tasks and subtasks from within the CRM itself. This greatly helps as you exactly know who is assigned what, to ensure that everyone is engaged equally and none overloaded.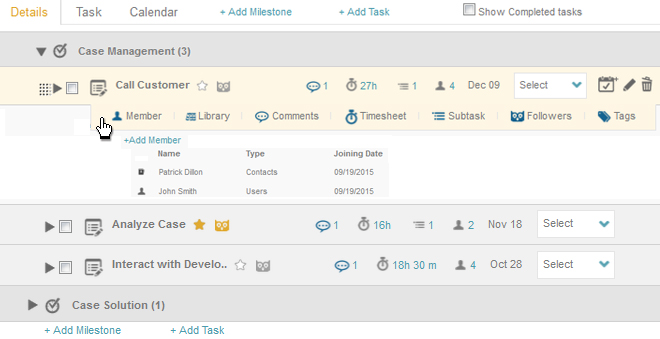 3. Progress Percent
To ensure that you are on top of your Project Management at every stage, ConvergeHub uniquely provides a visual on the progress made on each task and subtask. Based on which, you can:
Assess how much more time will the tasks/subtasks take to complete
Change their order or edit their details, if required.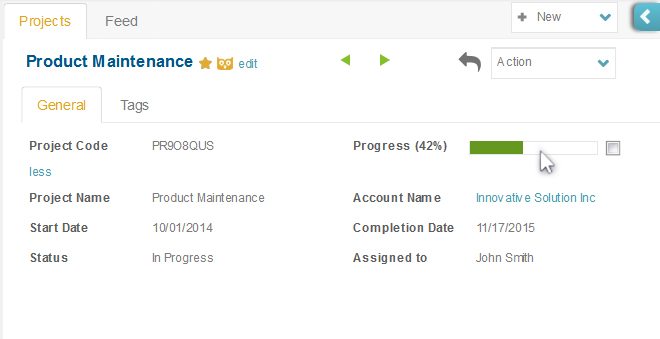 4. Document Management
You can easily select files (from your computer or ConvergeHub Library) and associate them with project tasks. That means no more endless sifting through emails trying to find the crucial project requirement that your client mailed to you. In one shot, everyone involved in the project can:
Access latest project-related files, documents, graphics, spreadsheets and reports
Have the same information or update on the project.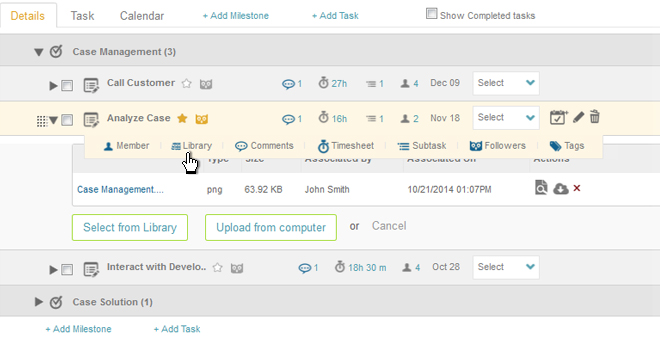 5. Collaboration
When you have a project in hand, ensuring proper communication and coordination among employees, clients and partners can be challenging. This is where ConvergeHub Projects 'Comments' feature comes to your rescue.
It gives the convenience to easily communicate in relation to the different tasks and subtasks. So:
Collaboration happens spontaneously
Problems get resolved real time
Things progress fast.
Unlike e-mails that is restricted to a few, here everyone involved in the project actively participates in the discussion through the comments.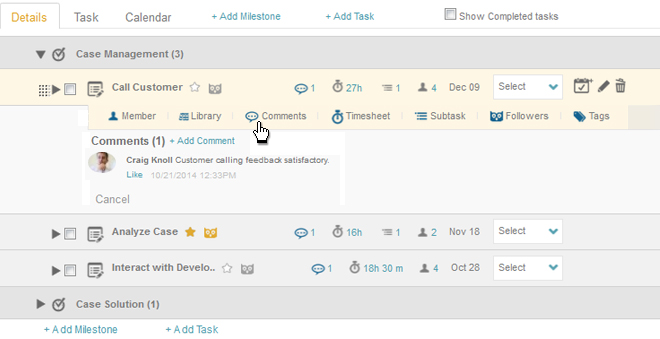 6. Calendar
Projects involve the delivery of multiple tasks and subtasks. Manually noting them can become a headache; which is why ConvergeHub offers the 'Publish to Calendar' option.
Any project task or subtask, you can mark its deadline in the calendar. And the benefit of this is two-fold:
Your team never misses out on the deadline for any assigned work
In one glimpse, you exactly get an idea of the upcoming deadlines and can accommodate the remaining tasks in the calendar accordingly. In other words, no overlapping of deadlines.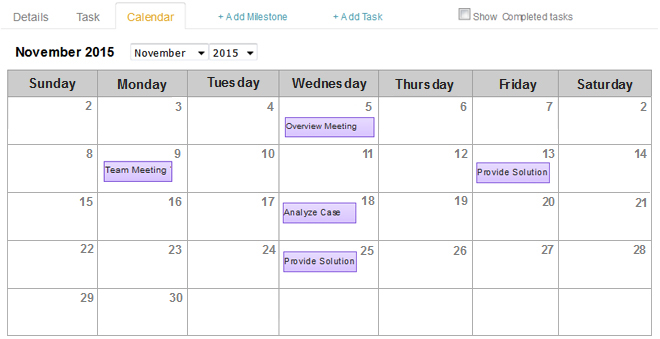 7. Timesheet
You can set target hours for the project tasks and subtasks, against which your team can log in the total time spent on them. This simplifies the task of recording and calculating the billable and non billable hours. Easy and Accurate way of time tracking! Isn't it?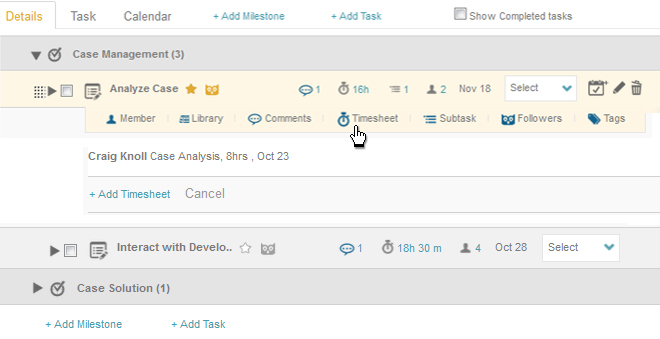 8. Billing
Whether it is a particular phase of your project that has got completed or the full project in whole, you just need to:
Go into the invoices section of ConvergeHub
Select the client's name.
All the completed tasks will get AUTOMATICALLY populated in the invoice. You can send the invoice either through Mail or DocuSign. Short, Simple & Quick!!!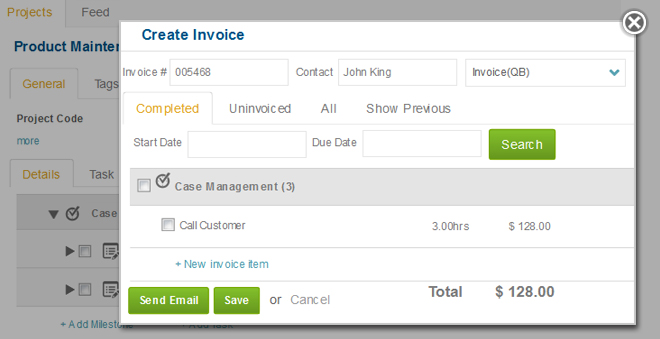 9. QuickBooks Integration
ConvergeHub is integrated with QuickBooks (Desktop & Online), that seamlessly syncs your customers, products, invoices and payments between both these platforms. As a result, you can raise project invoices and email them directly to customers from ConvergeHub. This data will automatically get synced up with your QuickBooks account.
Or
Even if your create and send invoices from QuickBooks, ConvergeHub will have the data updated immediately. That means whichever application you choose to send invoices, the data in the other will remain up-to-date and in-sync.
Benefits:
One unified view of your customers financials
Track the invoicing status of your project at any time from any application.
Impressed with the feature? So why wait? Get on with ConvergeHub Project Management module and let us know your feedback.
If you are not a ConvergeHub user, we welcome you into our family. Take ConvergeHub Test Drive and discover all the benefits that it brings over to your business. Or reach out to us and we will assist you in the process.
PS: Do not forget to write your remark below. What do you think of ConvergeHub Project Management feature?