Discussing Best SMB CRM ConvergeHub Feature, how ConvergeHub is helping its clients. The ability to dissect information is important for small & medium businesses. It enables them to identify the strengths and weaknesses and accordingly strategize to rectify the loopholes. ConvergeHub CRM brings the power of business intelligence within its web application. And what makes this really helpful is that apart from the 20 built-in reports, Any small & medium businesses can generate personalized business reports or sales report, depending on their specific work demands. There are a variety of reporting components available that include summary report, tabular report and matrix formats along with pie chart, bar, line and donut charts.
After a lot of consideration, you finally invest in a CRM with the goal of improving business performance.
The way most companies measure business performance is through sales / business reporting.
You're probably expecting your CRM to come equipped with all of the necessary reporting tools. For example, maybe you want the CRM to pull a weekly sales report that shows you exactly what's working and what's not in your business.
All of this can be accomplished with the right CRM system that includes robust reporting functionality.
Many small & medium businesses aren't able to use their customer relationship management systems as they were intended to be used because of very basic reporting features or business reporting features that are not user-friendly.
If your CRM Software doesn't empower you to analyze and track key business metrics, then you are unable to tap into the power of your business reporting. This essentially means that all of the manually entered information or integrations you're using to bring data into the CRM are completely pointless — the information goes unanalyzed and wasted.
Does this sound like your situation?
If this is your situation, I'm here to tell you that you don't have to be in that situation any longer because ConvergeHub CRM solves that problem for you. It is a full-featured Customer Management Systems that is offering a full suite of business reporting tools for any small & medium business.
In order to make informed decisions, you need real-time updates on business performance report – this happens through data analysis.
ConvergeHub functions as an on-demand reporting and business intelligence solution that helps you get key performance indicators for your business.
It enables you to analyze company data and create insightful business intelligence reports.
What does that mean?
Sales, marketing and support professionals can analyze data to get a better understanding of the health of your business. You can pull a report on almost anything within ConvergeHub CRM. With this information, you can make better data-driven business decisions.
What is ConvergeHub's Ad-hoc reporting?
ConvergeHub's ad-hoc reporting tool allows you to create simple and sophisticated reports for all of your different departments on-the-fly. All modules (sales, marketing, service, collaboration, activities, tools, and billing) within ConvergeHub CRM have this feature and allow for a cross-functional approach – best for teams. For example, you can create a sales report linking other modules such as marketing and billing.
You can instantly EXPORT these sales reports into a PDF or Excel file and use the data as you choose.
Below is a list of the different types of reports within ConvergeHub.
Types Of Ad-Hoc Reports in ConvergeHub CRM
1. Summary Report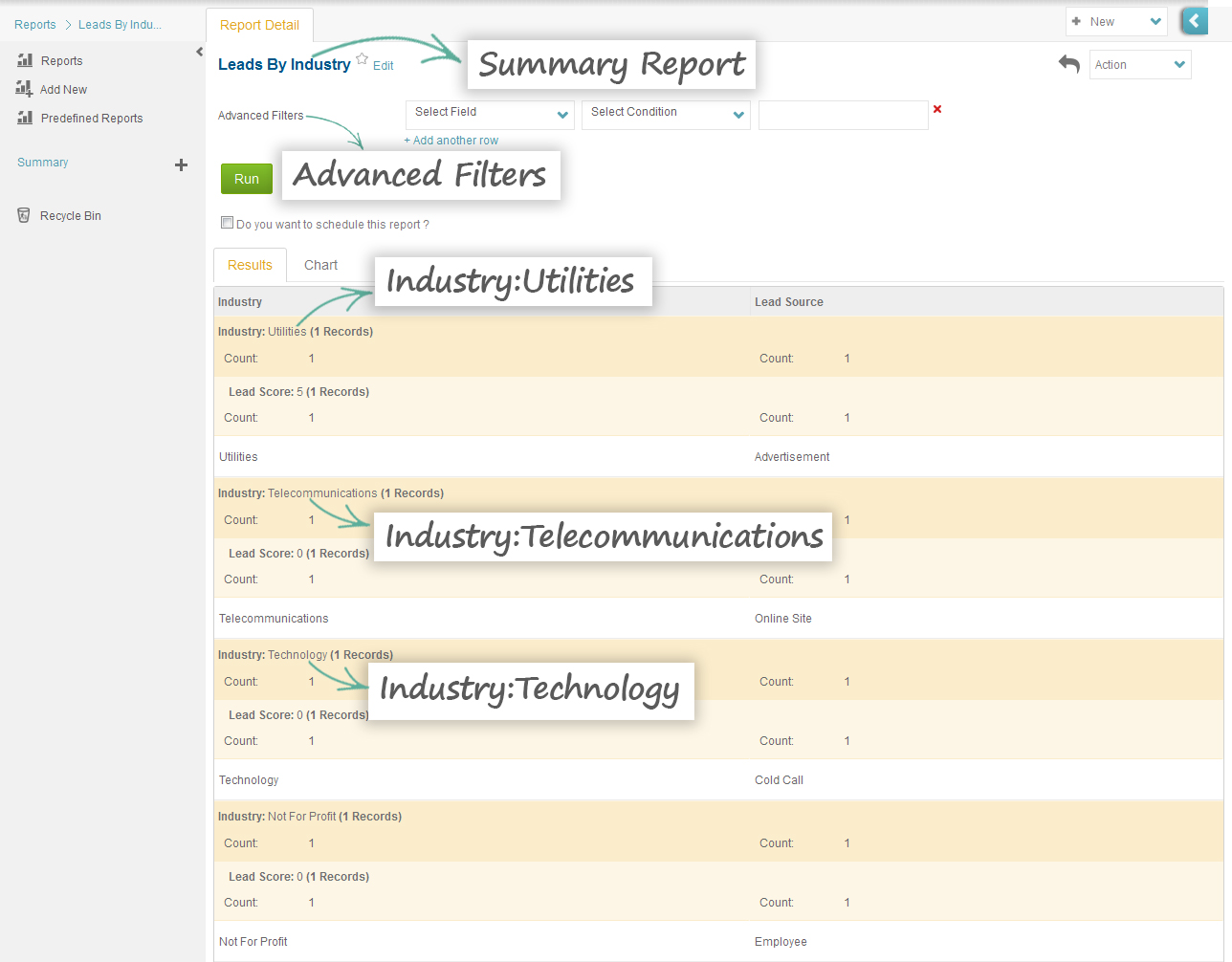 The summary report is commonly used as the source report for your dashboard. The dashboard gives you some key performance indicators right on the home screen – you get to see the data that's most important to your business without having to lift a finger. You simply set it up and forget it. ConvergeHub CRM will display the data each time you log in to the application.
It is ideal for showing information based on broad categories such as deals grouped by sales stage or leads grouped by industry.
The summary report allows you to create groups of data and design charts based on them.
2. Tabular Report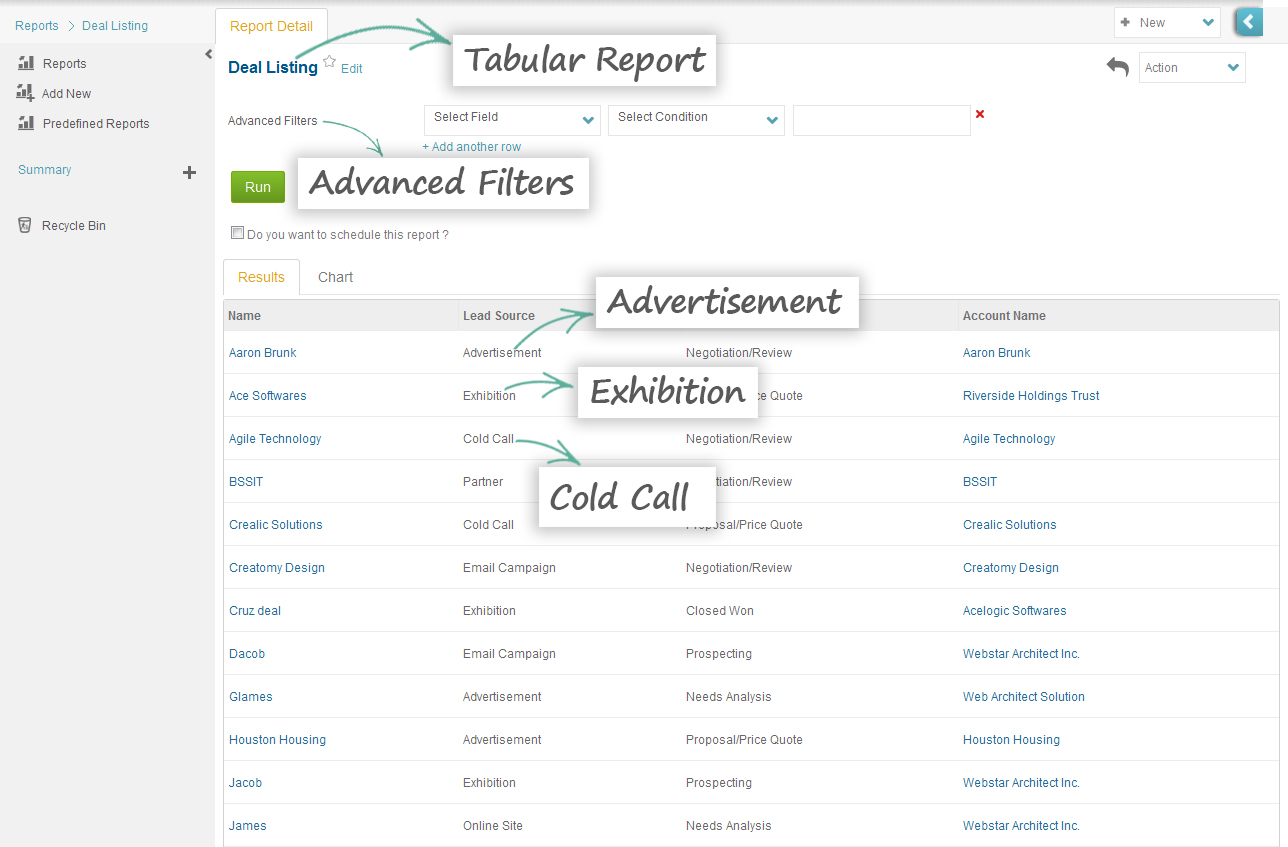 Similar to a spreadsheet, the tabular report is the simplest and fastest report format where data is displayed in the form of multiple columns.
It is ideal for creating lists of records such as contact mailing lists and activity reports.
3. Matrix Report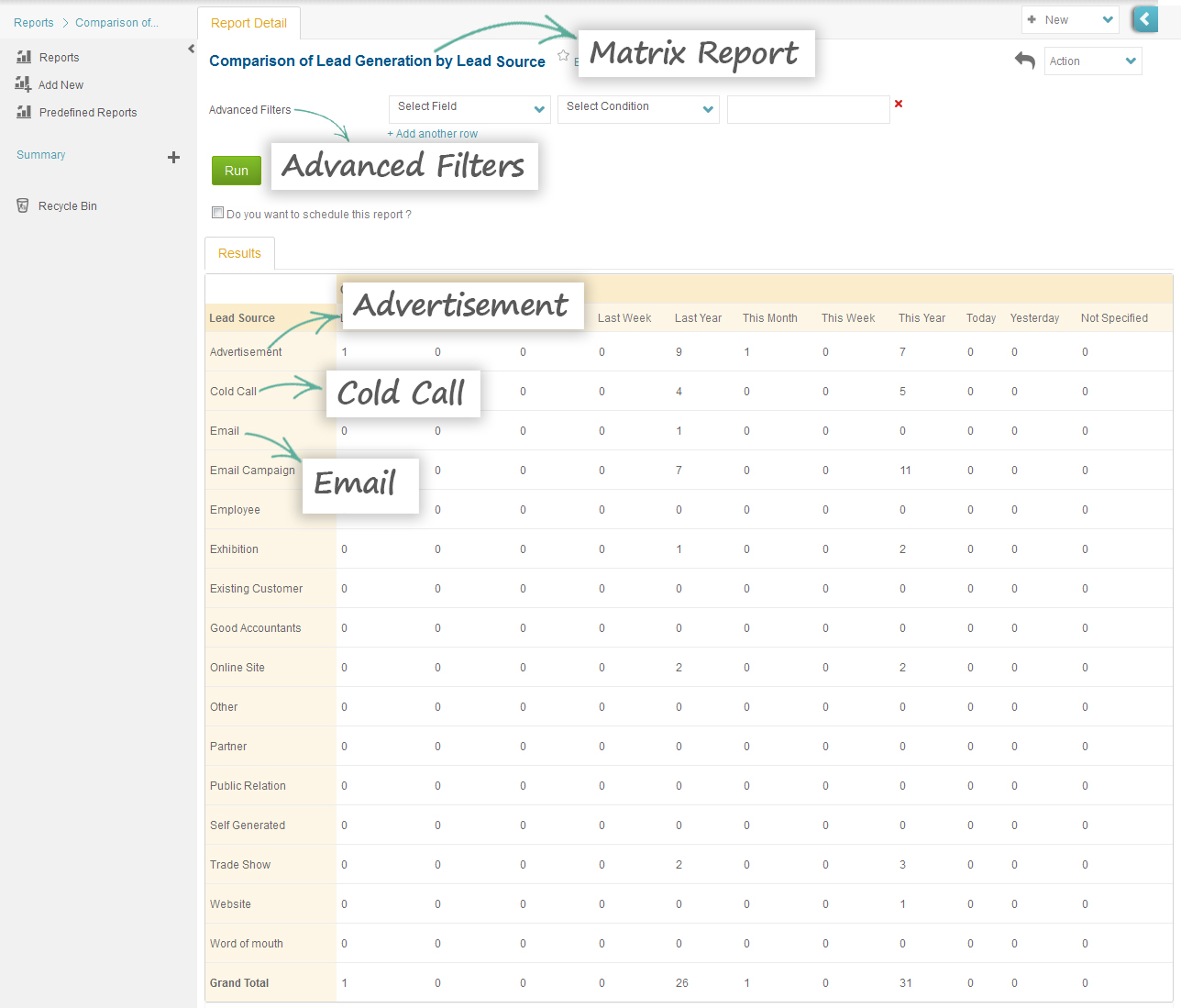 Unlike summary reports, the matrix report allows data to get grouped and summarized by both rows and columns.
10 Reasons To Consider ConvergeHub's Reporting Tool
1. Real-Time Reporting – Built For Non-Techie People
You can easily generate business reports by yourself – no time is wasted having to call IT or submit a support ticket. Configure the report you need with the help of the built-in reporting wizard (walks you through how to create your reports step-by-step).
Most of the popular CRMs limit their reporting features to a set of pre-defined reports that don't give you the business insights you need. Because of this, you're stuck with plain vanilla reports that don't allow you to make intelligent business decisions.
The CRMs that do offer custom reporting don't make it easy for you. You're stuck with a complex system that requires IT support.
ConvergeHub CRM breaks down this barrier for you and gives you time and energy back – two things money can't buy. The TIME and ENERGY gain can be put into other projects you're working on – much better than having to wait on a support team to help you run an your sales report or business report.
Enhance the effectiveness of all your business reports with visual representation tools. Select from a variety of charts (pie chart, bar chart, line chart and donut chart) to provide a quick view of deal flow (win/loss analysis, average deal size and more).
3. Set Criteria
Implement one or multiple advanced filters to generate report results based on your defined parameters.
4. Schedule And Share Reports Easily
Schedule reports (to run daily, weekly, monthly or annually) to be emailed automatically to your chosen colleagues, channel partners and other business associates. You can also export report to CSV or PDF formats for offline access.
5. Organize Reports– No Need To Run A Report Each Time
You can easily find all of your ad-hoc reports listed on one page – bye bye to double work (pull the report once and it's saved for a lifetime). You can bookmark the critical reports or even use the 'advanced search' option to quickly find specific reports.
6. Embed Your Reports Into The Dashboard
Add critical sales funnel and marketing campaign reports to your dashboard. Share reports in the form of 'dashlets' with your team to stay on top of business goals.
7. Delete And Edit Reports
Use the 'edit' function at any time to change elements of your business report. For example, if you have new information based on economic factors, this may be a good reason to edit the report (to make sure those factors are taken into consideration). When needed, you can completely remove the report altogether from the CRM software.
8. Round-The-Clock Access
ConvergeHub is cloud-based CRM software which means that you can access all effective weekly reports online from any location at any time.
9. Do Collaborative Analysis
Is your data scattered in multiple files, databases and online or offline business applications? No worries!
You can import data into ConvergeHub CRM from different sources and blend or merge the data to create cross-functional reports. For example, you can combine your marketing data stored in a spreadsheet with your sales data stored in the CRM to create a marketing report vs. sales report.
10. Increased Productivity
Timeliness of information ensures greater productivity.
Ad-hoc reports give insight into marketing campaigns, pipeline management, the sales cycle, customer support, and team performance.
These are just some of the questions you'll be able to answer:
What are the quarterly sales projections?
What's in the sales pipeline management?
What's the average length of the sales cycle this quarter?
How efficiently are customer issues being taken care of?
How many leads are processed this month?
You can use this data to carefully tweak and improve your operations which in turn greatly impacts the performance of your business and increases productivity.
The ConvergeHub reporting feature lets you design, customize and generate personalized reports quickly and intuitively for a robust data analysis experience.
You can track key business metrics daily — specific to your requirements. This ensures that you're always up-to-date on business performance.
You can plan ahead and confidently implement new procedures to scale your business.
Next Steps…
Impressed with ConvergeHub CRM's ad-hoc reporting feature?
Get a FREE copy of the business reporting kit now !
Here's what you get for FREE:
1. A personalized PDF copy of this full-length blog
2. Bonus Blog: Top 3 Most Useful Reports For Any Industry.
To see the reporting features in action, sign-up for a free trial and experience the power of ConvergeHub CRM's business reporting functionality.
Comment below and let us know what your biggest reporting challenge is. We'd love to hear.
Related Articles