ConvergeHub Knowledge base Features Focused as the Times have changed and so have the rules. In today's world, digitally savvy customers seek seamless and personalized experience right from the beginning of their interaction with any business establishments.
Nowadays, marketing, sales and support are no longer watertight compartments. But, they are a unified entity that aids in providing a holistic support to the customer right from pre-sales inquires to post-sales distress calls.
To experience stellar growth in business, which is mostly the result of providing excellent support to the existing customers, small and medium business houses need to implement best customer support technology that can handle each and every customer complaint in the shortest possible time.
According to an article published in BizReport (2015 Aspect Consumer Experience Survey) 76% of the consumers view customer service, as a hardcore reality test of how much a company values them.
Thus, it is high time that businesses look for a robust technology that can help them embrace a customer support strategy, for winning more customers and retaining the existing ones.
In stark contrast to traditional plain-vanilla CRMs new age converged CRM technology like ConvergeHub use Knowledge Base as a tool for handling customer support tickets. Whereby, the system helps in cutting down man-hours, while doing the same kind of tasks.
Knowledge Base is a repository of answers to frequently asked customer complaints and inquiries which are stored in the cloud for replying back, with the aid of canned messages.
Benefits of using the Knowledge Base
The first and foremost advantage of using this automated built-in feature is that it helps in resolving similar customer support issues in the minimum possible time.
It also empowers the customer facing agent to eliminate manual data entry and thereby make way for utilizing their working hours for other customer centric activities, which eventually results in fostering better relationships with new and existing customers.
The customer support agent can also edit and modify the canned messages in the Knowledge Base and add attachments for supplementary information, before replying to the queries.
Also, built-in automated alerts and notifications found in ConvergeHub CRM helps the customer agents to manage timely follow-ups, which makes the customers feel that the company is proactive and attentive to their needs.
Who are in need of Knowledge Base?
As an example, IT, Telecom, FMCG, Accounting and Insurance firms, where juggling endless complains and questions of multiple customers is most essential, using Knowledge Base aids in quickly resolving repetitive common complains of the customers.
Reusing FAQs using Knowledge Base hence just not meets what the big enterprises need. But it is also the need of the hour for most small and medium CRM vendors, who want to understand the voice of the customers and provide exceptionally fast solutions to their clients.
Are you are still wondering how you can use Knowledge Base and be a brand differentiator, by expanding your support skills?
Here is a step by step illustrated guideline, which will make you learn how to use this exceptional feature in ConvergeHub CRM.
1. Click on Knowledge Base from the Service Menu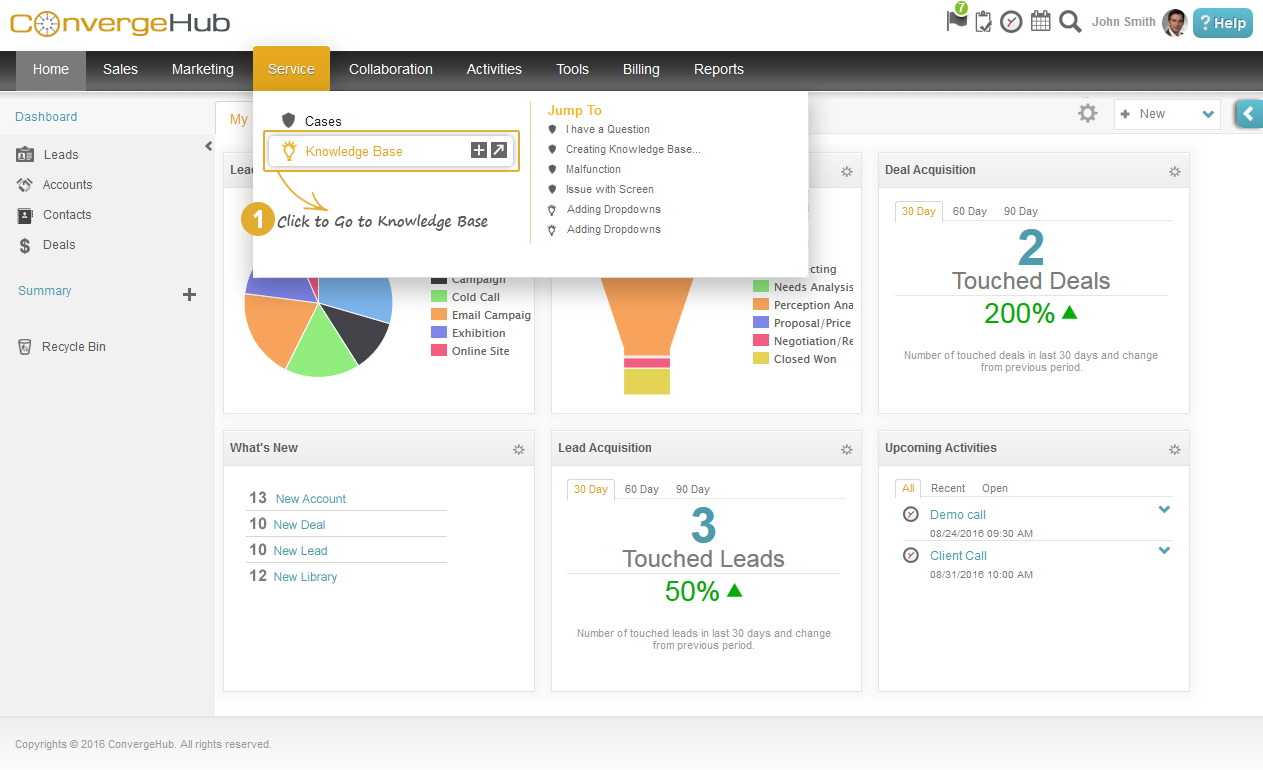 2. Write or Add Subject
3. Choose or Add Category
4. Write the body of the message
5. Attach files (if required)
6. Click on Save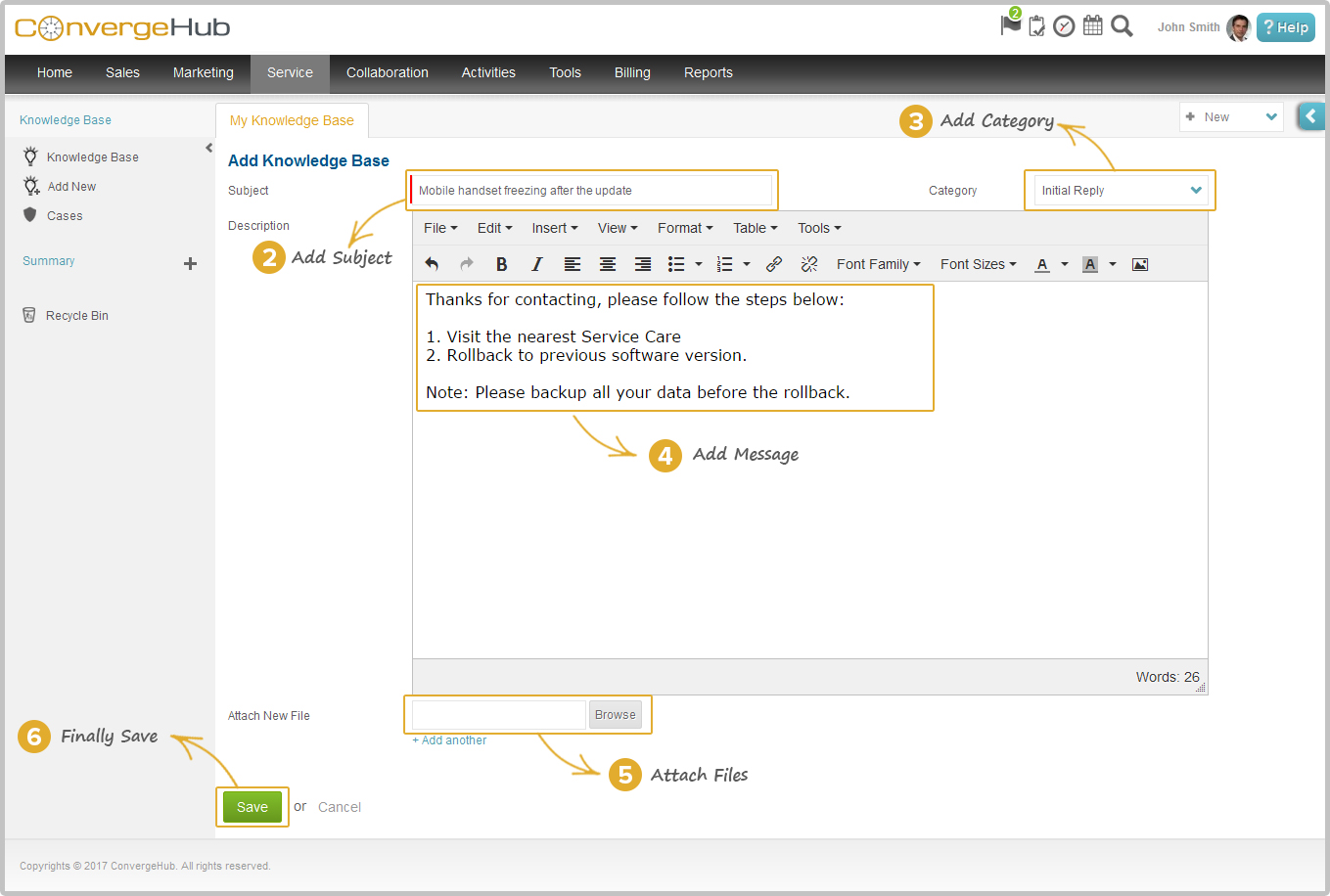 7. View Knowledge Base Listing Page to perform Add, Edit and Delete functions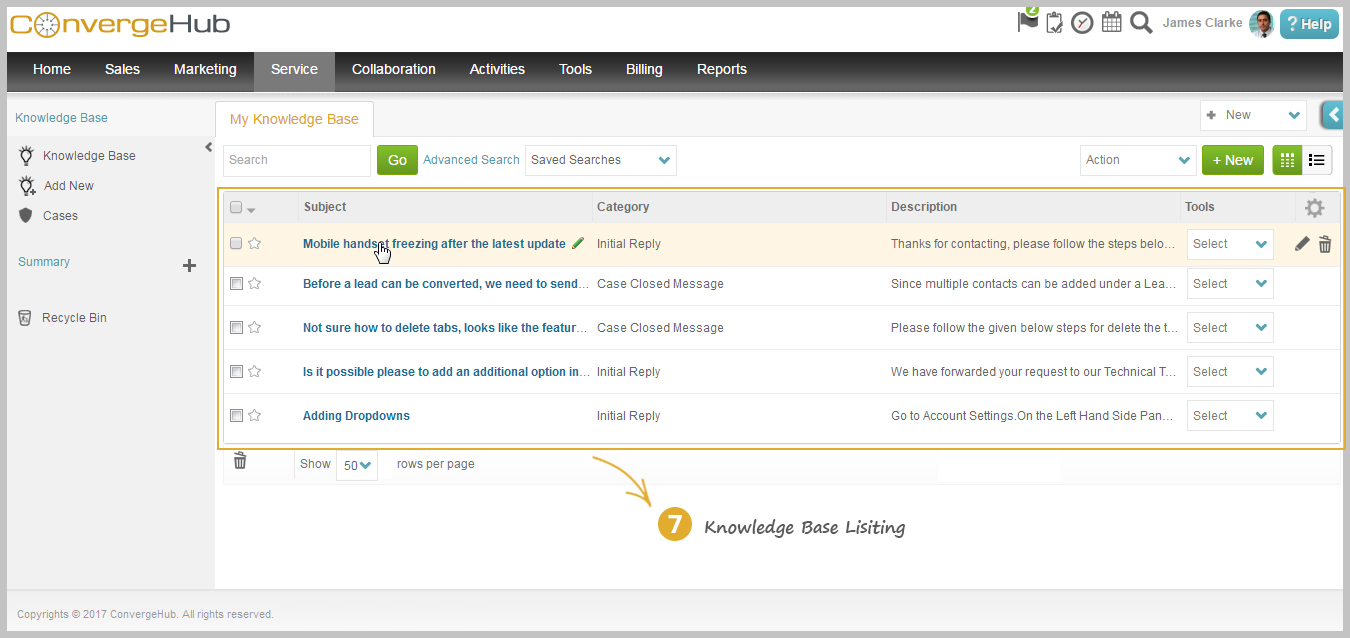 8. Add Case
9. Attach files (if required)
10. Check on "Send notification to Account/Contact" and "Send notification to Assigned User(s)"To send alerts and notifications
11. Attach canned messages from Knowledge Base by clicking on "Insert from Knowledge Base"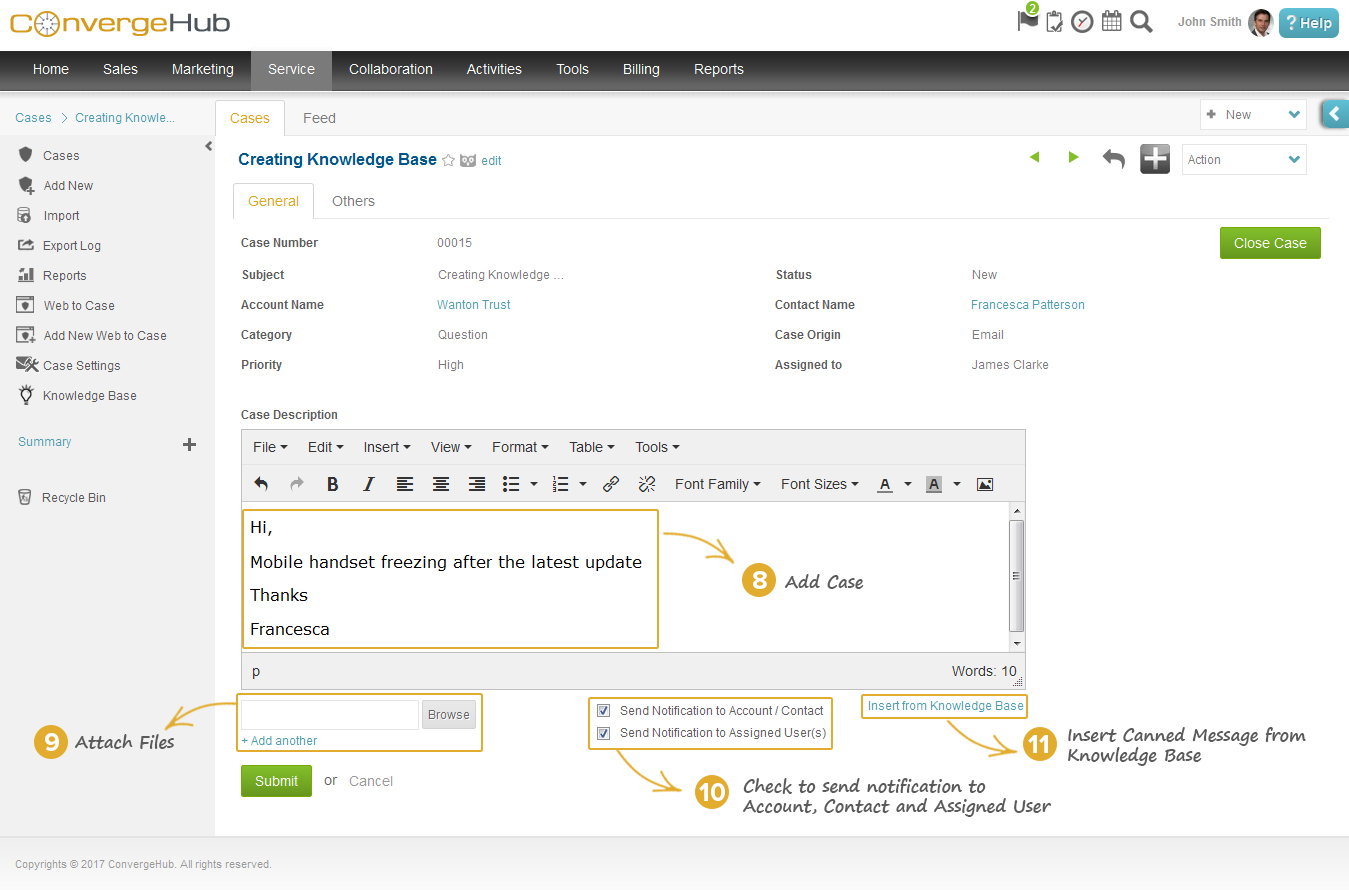 12. Attach the canned message from the Knowledge Base pop-up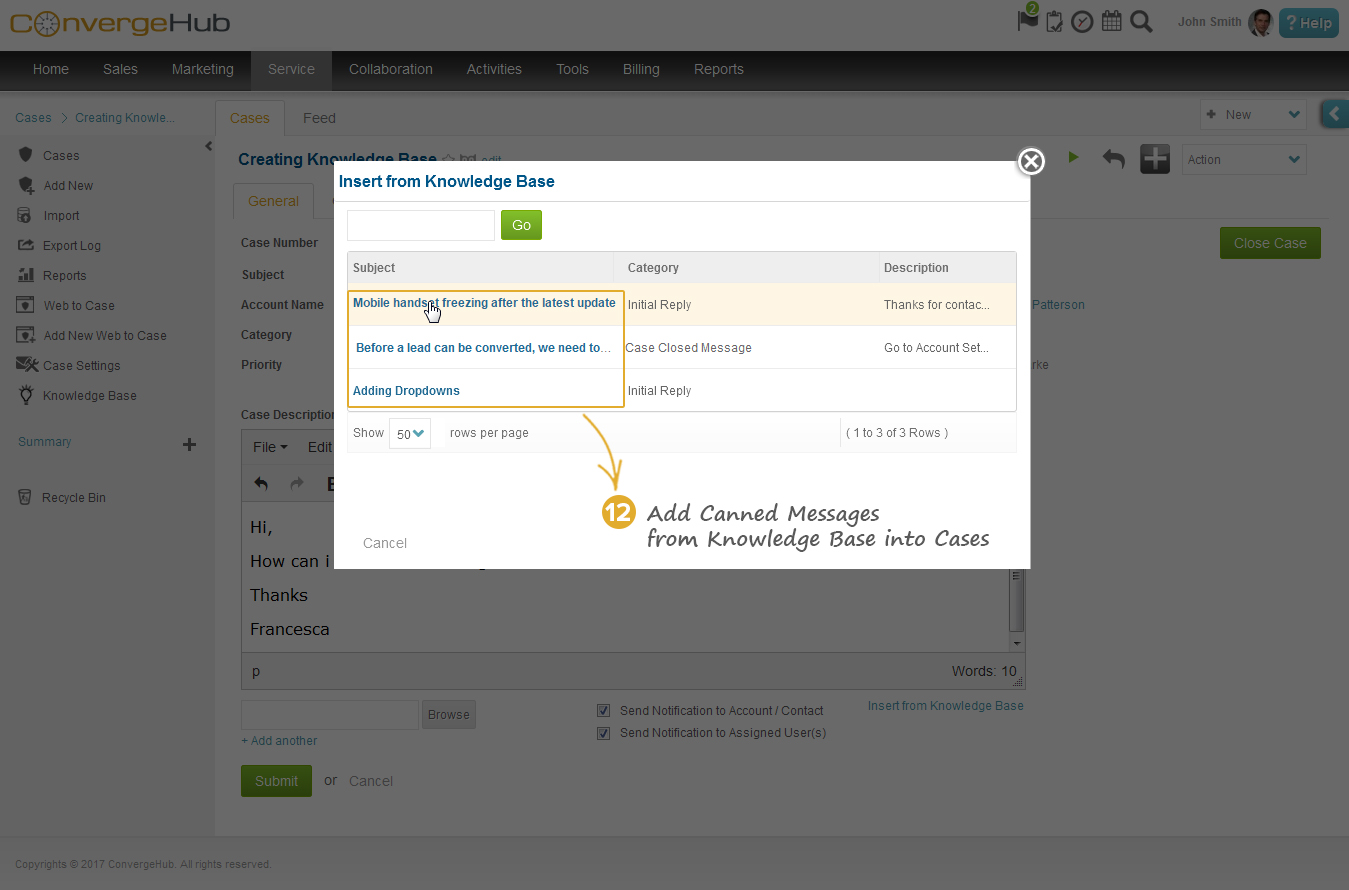 13. View inserted Canned Message from the Knowledge Base
14. Check on "Send notification to Account/Contact" and "Send notification to Assigned User(s)"To send alerts and notifications
15. Click on Submit button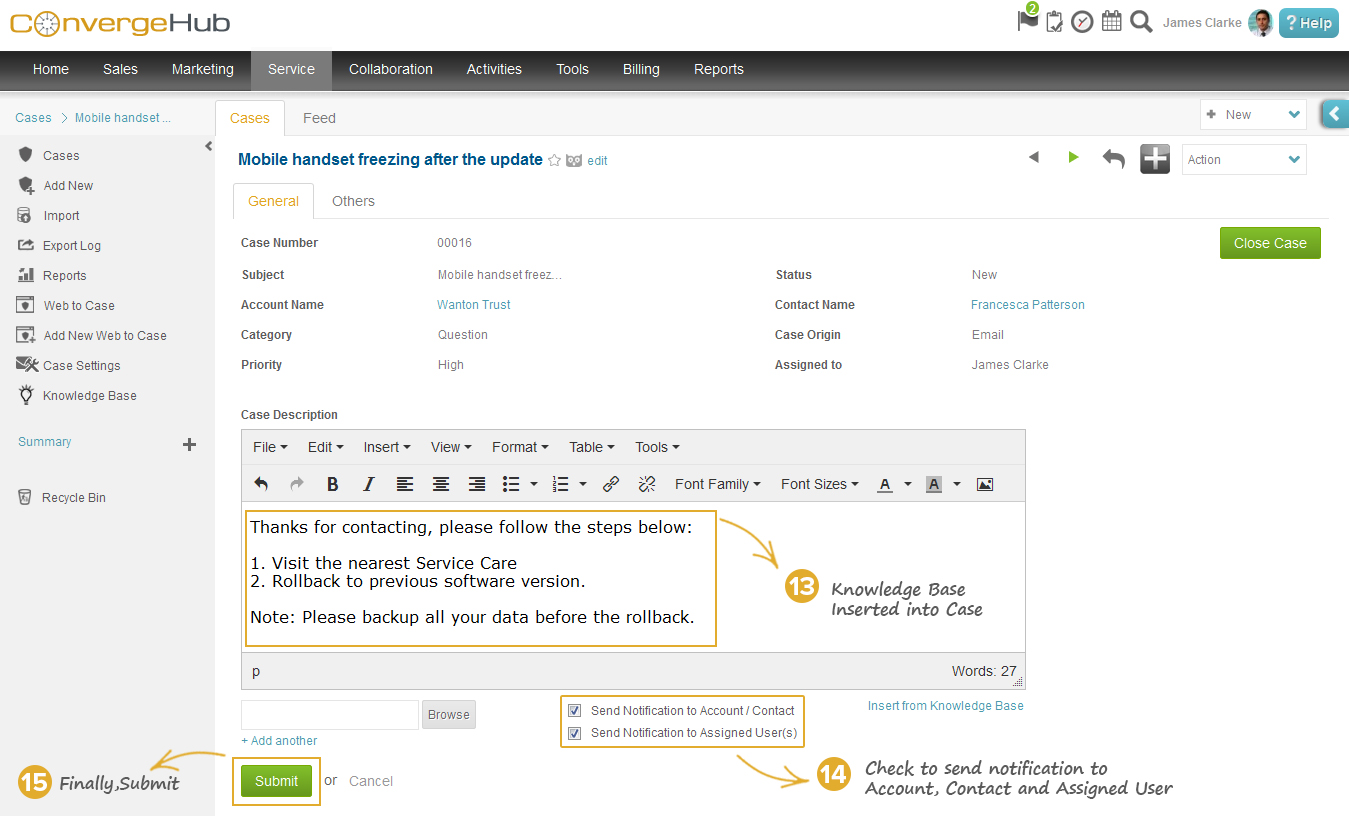 Now that you have learnt the ropes, hope you'll find the use of Knowledge Base easy and effective.
We would love to hear your feedback.
Not an existing ConvergeHub User?
Sign up for ConvergeHub CRM now.
Be one of the many thousands of businesses using ConvergeHub to manage their entire operations. Easy and effective – the best part is you get started with it in minutes.
Learn about ConvergeHub CRM through the following ways:
Thank You!
P.S. Twitter is a great place to reach us.
https://twitter.com/convergehub
Looking forward to see you there also.